Sustaxyl 350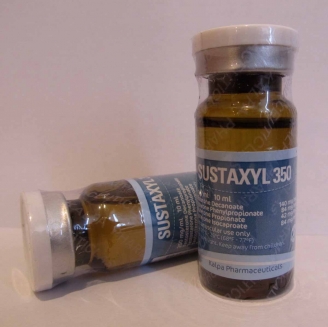 Sustaxyl 350 is a steroid with strong anabolic and androgenic activity, produced by the pharmacological company Kalpa Pharmaceuticals. It is based on four popular and effective testosterone esters that provide an uniform positive effect: testosterone decanoate, testosterone phenylpropionate, testosterone isocaproate, testosterone propionate.
This steroid drug is most often used in sports practice: in bodybuilding, in weightlifting and in many other disciplines, Sustaxyl 350 is used to gain muscle mass, increase strength and endurance, and to strengthen and normalize the body. It can also be useful outside of sports, for example, it can be used for medical or therapeutic purposes - for substitution therapy, for increasing libido and sexual activity, and for other reasons.
The period of activity of this drug reaches 3 full weeks, and all thanks to a competent combination of testosterone esters, which are its active substance. Therefore, it is recommended to take this steroid every 5 days (once every 3 days).
At the same time, the anabolic and androgenic activity of Sustaxyl fully corresponds to that in endogenous testosterone, which in a compartment with a prolonged action makes it an incredibly powerful and useful sports tool.
In general, during the Sustaxyl cycle, it exhibits various positive properties, while in sport practice its following effects are especially valuable:
Strong anti-catabolic effect;
A tangible increase in appetite;
Rapid increase in muscle mass due to the synthesis of proteins;
Improved blood (increasing the number of red blood cells in the blood) and ensuring better transport of oxygen in the body;
Increased endurance and strength;
Temporary increase of libido (on the course).
As already noted, this anabolic is used primarily for muscle mass gain, as well as for increasing strength, endurance and appetite. In solo or in combinations it can be effectively used in power and in many other sports (powerlifting, weightlifting, bodybuilding and so on).
Usually during the course, athletes use dosages of  Sustaxyl in the range of 350-700 mg per week. In this case, injections are recommended to be put every fifth or every third day. This frequency of reception is explained by a long period of validity (the period of its activity reaches 3 full weeks). The average duration of the course with this drug is 4-8 full weeks.
Let's clarify that the concentration of this steroid acting in the bottle is 350 mg per 1 ml. And this means that for the introduction of the minimum recommended dose of this mix, you only need 1 ml of the drug (in turn, for the maximum recommended dose - 3 ml). Thus, one bottle (nominal volume - 10 ml), you will have at least 3 maximum for 10 weeks.
By the way, the use of Sustaxyl is most often performed in combination with other steroid agents. For example, to maximize muscle mass and other indicators (strength, endurance, appetite, etc.), you can combine this drug with nandrolone and methandienone. The dosages are as follows: Sustaxyl 350-700 mg per week, nandrolone decanoate - 200-400 mg per week, methandienone - around 20-40 mg per day. To minimize possible side effects during the course, Proviron is used, and on PCT (post-cycle therapy) - Tamoxifen / Clomid.
Also, the Sustaxyl cycle can be effectively combined with the use of boldenone (Sustaxyl and boldenone 500 mg per week), with oxymetholone (Sustaxyl 350 mg per week, oxymetholone 50-100 mg per day) and many other steroids.