Supertest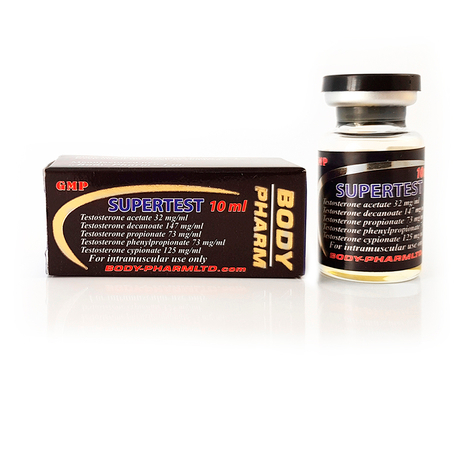 Supertest is made by BodyPharm.
1 mL of solution contains:
Supertest comes in 10 mL sterile vial.
I switched over to this about a week and a half ago. I'm doing 1cc eod and all i can say is HOLY SHIT IT HURTS. A couple hours after injecting it starts and gets progressively worse for like 4 days after. Not only does it hurt but the pin location gets pretty swollen. I was running sus 325 four days a week and it was nothing like this.
Does it hurt anyone else or am i just a big pussy??!?!
obviously you're a big pussy ... J/k bro yea Supertest does hurt the first few times.
I'd say it was about a week and I finally noticed it got better.
Give it a few more days and you should be ok. Btw where are you pinning bro? I use my quads and rotate. I limped for the entire week.
The SUPERTEST 450 will put a hurtin on U for a few weeks, do like JJ/MeatHead stated and U will be fine! If U ain't Limpin, Ur ass ain't Pimpin!! LMFAO!! Strong Shit U runnin, great results are just @ the corner!!
5'9 240lbs
Testoxyl Enanthate 375mgs/week.
Sustaxyl 325mgs/eod.
Primoxyl 375mgs/week.
Nandroxyl 300mgs/week.
Trenboxyl Acetate 150mgs/eod.
Oxandroxyl 90mgs/ed.
Kalpatropin 10ius/ed.
Proviroxyl 50mgs/ed.
Powered by Kalpa
"*Disclaimer*: "Biggin" is a fictitious character with the sole purpose to entertain & theorize on the use of Anabolic Steroids for intellectual discussion. Any information or advice given out, stated, or implied by "Biggin" is for entertainment purposes only & should not be considered the advocation of any illegal activity.
Biggs are you trying to tell us MegaKnight2 is pimpin out his ass? Oh well to each his own
You can also cut it with deca, that seems to work well also.
"We few, we happy few, we band of brothers. For he today that sheds his
blood with me, Shall be my brother"
PLEASE Do Not ask me for sources!
Bro, it took me like 5-6 weeks before I could sit or stand quickly the day after injection. I was only running 650mg EW broke into 3 shots. I can only imagine how 1cc EOD feels, Ooouch! The pain was a small price considering how well it worked for me though.....
DISCLAIMER: Starquest Maniac is completely fictional and not a true human being. As a matter of fact, I am a loser who has nothing better to do than imagine what life would be like if AAS was legal! Everything I say is a lie, and that's the TRUTH!! LOL!
I am a Testicle Professional
30yrs old, 6'0ft, 178lbs, 7.0% BF
PCT, so I can be breast tissue FREE!