Stanoxyl Depot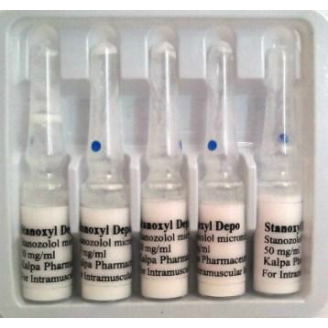 Stanoxyl Depot (Stanozolol) from Kalpa Pharmaceuticals: it is an anabolic and androgenic steroid in injection form, with a dosage of 50 mg/mL. Stanoxyl Depot is designed to increase the muscle's definition, remove accumulated water from the body, reduce globulin levels, bind sex hormones, increase strength and endurance.
Stanoxyl Depot Profile
Anabolic index - 320% of testosterone.
Androgenic index - 30% of testosterone.
Aromatization is absent.
Form of release: 1 mL Ampoule.
The level of liver damage is moderate, regardless of the form of this steroid.
Duration of action - up to 8 hours.
Detection time on doping control - up to 360 days.
This topic was modified 9 months ago 2 times by
Admin