Trenboxyl Acetate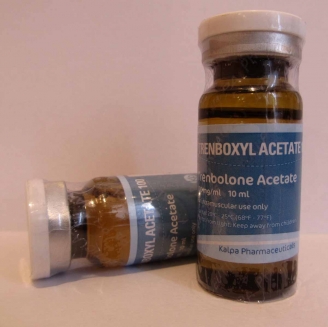 Trenboxyl Acetate (Trenbolone Acetate) from Kalpa Pharmaceuticals: it is an anabolic and androgenic steroid which has the shortest period of action. The ester of this drug accumulates in fat stores, the active substance is gradually cleaved into the blood. A short half-destruction period predetermines a high frequency of injections, which can be inconvenient for beginners. The average dosage of acetate varies between 50-100 milligrams a day.
Trenboxyl Acetate is one of the most effective in terms of building muscle mass and increasing strength. It should be noted that there is a high incidence of adverse reactions, especially in cases of improperly selected dosages and exceeding the duration of the course.
Trenboxyl Acetate Profile
Significant increase in muscle mass
Reduction of fatty deposits. The effect is enhanced by stimulation of growth hormone production;
Increased sexual desire and libido on cycle. After the drug is withdrawn, the level of secretion of own testosterone is significantly reduced;
Double increase in insulin-like growth factor;
Decreased cortisol level;
Increased strength.
This topic was modified 1 year ago by
Admin