Primoxyl 100
Topic starter
11/06/2019 1:58 pm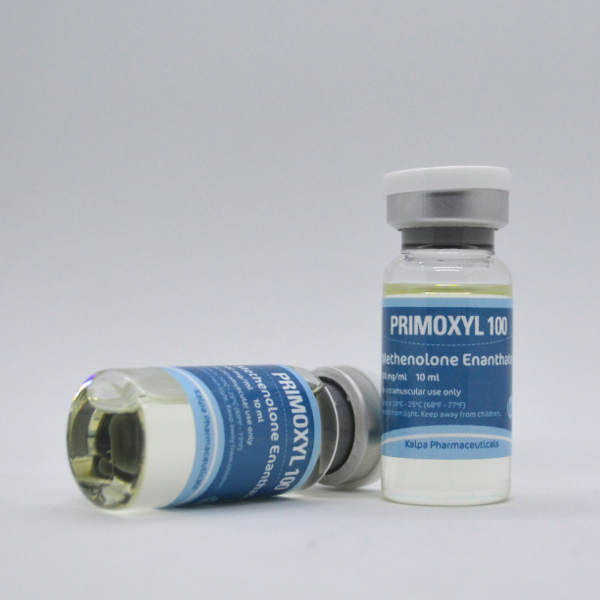 Primoxyl 100 is made by Kalpa Pharmaceuticals.
1 mL of solution contains:
100 mg Methenolone Enanthate
Primoxyl 100 comes in 10 mL vial.
i was wondering wut anybody thought of Primoxyl 100.
i heard it a weak steroid for women..how does it compare to other steroids like deca or Tren and wut would be a good cycle wit this for a beginner
This topic was modified 4 weeks ago by
Admin
Primoxyl 100 by Kalpa Pharmaceuticals is my overall favorite...
It gives me an overall feeling of well being, since it promotes a healthier immune system.
Overall gains are very minimal amounts of good quality muscle. A bit of hardening and expect to keep what you gain. There are "NO" side effects whatsoever for me and I am sensitive to sides, so in reality, there aren't any.
For it's price, it may seem not worth taking, but if you are prone to sides, or are female, then it is the ticket.
Dosages that work well 300-400mgs per week minimum. You cannot compare this to tren, maybe like a weak deca, minus bloat and gyno.
Again, the pricetag is very high with this product.
Topic starter
11/06/2019 2:48 pm
300 to 400 mg is that what u take or is that what men should take
Bodybuilder * Grappler * Olympic Weight Lifter
Team Jacare/Cobrinha
Carpe Jugulum
***It aint the size of the dog in the fight, but the size of the fight in the dog***
Coffee's Gym Sponsored Female Superheavyweight Olympic Weight Lifter
I've used it and love it... you get hard,,, the workouts are great but the growth is slow... 600mg is the dose you want if you want decent growth... Like said before little to no sides and I am prone to sides... Still killed my libido in week 5 and I had to up my dose of test to get it back...
Tbol with it would be nice...
---------------------------
Wanting to avoid negative sides?
Thinking of Testosterone Replacement Therapy, called TRT? ...
You've come to the right place for that type of questions...
----------------
Asking me where to buy or anything about purchasing steroids will first get you a warning then banning if that type of questioning continues... No exceptions! Don't even joke about it!
Primoxyl 100 is an excellent steroid. I think that it is very under rated just because it won't instantly make you huge like some of the other steroids. It basically has zero side effects, you keep what you gain, you gradually lose bodyfat while building a little muscle, Primoxyl 100 gains are not calorie dependant, and if it's used with other aromatising drugs it can lessen the bloat. I'm using it with Sustaxyl to lessen the bloat and keep my immune system up over the winter. I've also noticed that my beanbag hasn't shrunken much while using primo with the test. You can use huge amounts of primo without getting sides. I believe that it binds to the AR receptors very well, because the only time I ever felt any kind of "rage" from steroids was when I used 700mg of KP primo a week. My mood went back to normal after I cut that dose in half. There is usually a little bit of a crash when coming off AAS, but I did a little 6 week sample cycle of primo alone and I actually felt much better after the cycle than I did before.
When taking Primoxyl is hcg, clomid and proviron needed. If not why
primo is a steroid so just like all steroids it will eventually shut you down. Even if you run Primo you should add a test as your base. Taking atleast 200-250mg to replace your bodies natural test levels. HCG is taken from about week 3 up until PCT. And clomid and nolva are take for PCT.
What is your cycle history and what kind of results are you looking for? I get the feeling you still have more research to do before you start any AAS.
I think it depends on how much Primo you're using and for how long you're using it. If you're using 300mg or less, then you won't notice much shutdown. A Clomid PCT would be enough for that. If you're using 400mg+, then you should probably add Test and maybe HCG. Use it for 8-10 weeks at about 200-300mg a week, and you should bounce back fairly fast just using Clomid. However, using Primo alone isn't going to do shit in terms of gaining more than 5 pounds or so. It's very weak, but I like it because it takes the bloat away when I use it with Test. That way I don't have to worry about diminishing my gains with Nolvadex, or spending more money on Aromasin or the other AI's. No, you don't need Proviron with it, but Clomid for PCT yes.